Car luxury brands Rankings

The graph above lists the car brands according to the percentage of positive sentiment about its purchasing cost. On the left hand side the brands are perceived as (too) expensive, the cars on the right are deemed affordable or to offer good value for money.
The overall results are not surprising: The top five expensive car brands include Ferrari, Land Rover and Cadillac, whereas the affordable brands are Skoda, Suzuki and Mitsubishi. More interesting is the position of Dacia and Renault. Renault is perceived as significantly more affordable than its low cost sister brand Dacia, which this data puts in the same range as the acclaimed luxury brand Lexus.

Regarding the driving experience, the top three consists of Porsche, Jaguar and Ferrari. The worst driving experience is expected from Chevrolet (In The Netherlands mostly marketing the former Daewoo models) and Dacia.
The aesthetics associated with the car brands result in the graph above. The bottom section is the domain of most of the Japanese brands (with the exception of Suzuki and Mazda) and, more surprisingly Volkswagen. The top section is populated by the Italian design of Alfa Romeo and Lancia, but also Tesla whose limited model range has an almost unanimous appeal.
Value for money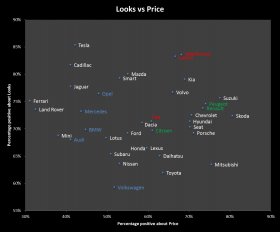 Another way of examining this data is to plot one factor against the other. For instance when using price on the horizontal axis and the looks on the vertical axis results in the graph below.
This graph clearly illustrates that for affordable good looking cast the Italian brands are in a league of their own. Fiat seems to be a bit out of contact with the other Italian brands, but still scores higher than most traditionally German brands.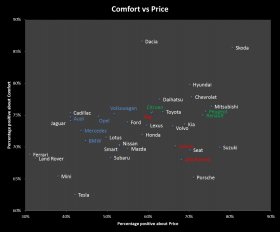 The French brands are mostly associated with reasonably affordable and generally comfortable cars. This expectation can also be checked using our data since comfort was one of the main parameters included. The graph below plots the perceived comfort versus the price level of that brand.
The graph above illustrates that the Italian brands are perceived to offer less comfortable cars that the traditionally French brands. German brands score similarly but are generally in a higher price range. Surprisingly, Volkswagen scores higher than the luxury brands Mercedes and BMW. This may well result from the definition of Comfort used in this test, which included ergonomics, personal space and general practicality.
Conclusion
The conclusion that we draw from these results is that the data appears to be in agreement with most stereotypical preconceptions about the car brands. This is a good thing since the system is aimed at capturing the opinion of the general public, which by its nature can be expected to be sensitive to stereotyping.
✔
Mercedes wallpapers
all models.
You might also like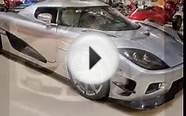 Luxury Car List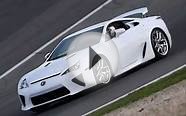 Perception Survey luxury car brands 2014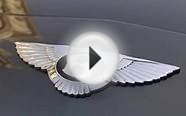 Luxury Car Brands Images
Cars of the 1940s


Book (Publications International)




Information on all American cars manufactured in the 1940s
Beautiful color photography
Car ads from 1940s publications
Eurnice® Furious 7 New Fashion Cool 3D Luxury Fast Race Car Lamborghini Pattern Detachable Hard Case for Iphone 6 (4.7 Inch) Stand Cover (Orange)


Wireless (Eurnice)




100% brand new, high quality plastic, durable and sturdy
Fashion cool design for all car fans. Cool 3D sports car design to fit iphone 6 (4.7 inch), give your iphone a new look. Easy access to control ports, cameras &...
Provides your iphone the maximum protection against scratches and scuffs. Covering the back and corners of the phone. Protect your cellphone from damage scratches...
The trunk can opens to turn into a stand, 2-piece detachable, easy install and remove
Size: 5.9 x 3 x 0.6 inches (L×W×H). Package includes: 1 x phone case
24 HOUR SALE | Cozy Greens® Backseat Organizer | EXTRA DURABLE, EXTRA SPACIOUS Car Organizer | *FREE BONUS*: eBook on Traveling with Kids | CHARITY-APPROVED | LUXURY GIFT BOX | Acts as Kick Mat, Car Seat Protector and Back Seat Protector | Premium Quality Durable Waterproof Material | Super Secure Strap System™ | Lifetime Satisfaction Guarantee! | Super Spring Sale - 40% OFF Today


Baby Product (Cozy Greens)




1. GENUINE COZY GREENS® PRODUCT: All Original Cozy Greens products come with a LIFETIME GUARANTEE. If you have ANY problems with your Cozy Greens Back Seat Mirror...
2. MOST DURABLE: Your Cozy Greens Organizer is hand-crafted from Top Quality materials and reinforced on the points that receive most wear. It won t rip, won t come...
3. MOST STORAGE SPACE: We have specially designed our organizer to have more storage pockets and unique Stretch n Store™ bottle holders superior to any other brand...
4. DESIGNED WITH EASE OF USE IN MIND: Unpack your Cozy Greens Backseat Organizer from its Beautiful Gift Box, and enjoy the easy installation by adjusting the Super...
5. OVER 5% OF PROFITS GO TO CHARITY: THERE ARE A LOT OF NOBLE PEOPLE OUT THERE WHO HELP OTHERS TO HAVE A BETTER LIFE. WE BELIEVE YOU ALSO LIKE TO SEE PEOPLE DO BETTER...

Fone-Case Huawei Ascend Y520 Case Brand New Luxury - CAR DRIVERS SUPER SAVER ESSENTIALS ACCESSORY PACK - Unisuction 360 In-Car Windscreen Suction Car Mount Holder, Black High Capacitive Touch screen Stylus Pen, Black In Car Bullet USB Charger Adaptor, Black Micro USB Data Cable


PC Accessory (Fone-Case)




A Superb 4-in-1 pack for your car
A Great way to charge your phone on the go whilst in your car
Great value for money
Comes with the car holder - stylus pen - car charger - micro usb data cable
Exclusive to Fone-Case

Bentley Luxury car brand(England)iron on patch great gift for Men and woman by KLB TRADE


Art and Craft Supply (Thailand)




We ship to worldwide by Thailand post air mail
Perfect for Jeans, Jackets, Vests, Hats, Gear Bags, Scrapbooking and more
Patch can be Iron on with Heat or Sew.
sold by KLB TRADE