French luxury skin care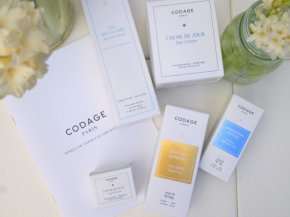 No nation understands skincare quite like the French. The combination of medical know how to improve the skins appearance and results that deliver make the French kilometres ahead of field.
Codage is a Parisian creator of beauty formulas with a background in the traditional French pharmacy, they solve individual beauty issues, which to you and I means they produce a range of luxury skincare specifically designed for your skin.
I started with a consultation, the very lovely English skin expert and French PR both agreed I would need the Serum No 06 Anti Age Supreme, specifically designed for mature (old) dehydrated (wrinkly and old) skin. Coincidently its also the most expensive.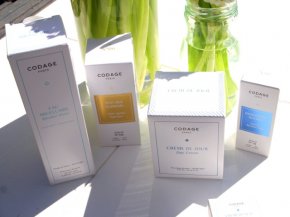 Alas they had no sample pots available, so I was given a Serum No 01 Hydration Intense (moisturising) to try and a sample pot of Creme de Nuit, I took them home.
The next day the French PR got in touch to let me know they now had the Serum No 06, in stock and would I like to try this along with the Creme de Jour and Eau Micellaire, Cleansing Water. I think my need for hydration had been so bad they had it specially shipped!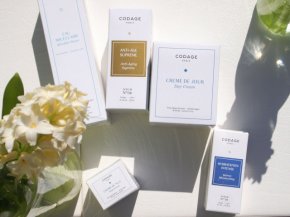 I decided to conduct my own semi scientific test by only using Codage skincare products for a month. My trial lasted the whole of April. I must first state that at no point during the month did I reach for another brand such was my loyalty to Codage. Indeed the experience was altogether luxurious, not to mention the simply packaged products looked fantastic in my bathroom!
Now just creeping into mid May I'm still using Codage and I can report cleaner, fresher, toned skin. My face looks younger and fine lines are less visible.
In conclusion, Codage is a more expensive choice for your skin than perhaps you are used to, however it really does make a difference, the high performance serums are specifically composed for your skin. Also because you dont need a lot the pots will last much longer than a month. Sometimes, and perhaps this is an age thing, your skin deserves the best, non?
While I'm sure that its advisable to start using Codage in your youth, once you reach your 40's (early 40's that is!) it really is a game changer to use a proper age appropriate scientifically proven face cream.
✔
Mercedes wallpapers
all models.
You might also like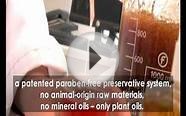 NUXE Skincare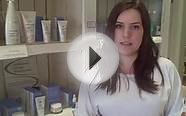 Phytomer - French luxury, marine-based skincare line
3-in-1 Clay Mask: Bentonite, Kaolin & Smectite Facial Clay *Premium Sea Ocean Ingredients: Sea kelp, seaweed, spirulina w/ aloe & grapeseed oil *Free eBook: "DIY Facial Mask Treatment" *Organic Luxury Skin Care *La Beauté Pure ~ Simply the Best
Beauty (La Beauté Pure)
BENTONITE, KAOLIN & SMECTITE CLAY ~ Dr. Axe suggests using bentonite clay anywhere you have blemishes, red spots, irritations, or scarring. Mud and clay draw...
OCEAN TREAUSRES ~ SPIRULINA has beta-carotene which helps alleviate psoriasis and acne. SEA KELP helps sooth burns and rashes. SEAWEED tightens and unclogs pores...
LIVER SPOTS ~ Clay works as a skin lightener, removing dead cells from your top layer of skin. With dead cells gone, your skin will tighten and tone.
ACNE ~ Half of women and at least a third of men get clinical acne well into adulthood. GRAPESEED OIL is an anti-oxidant and is anti-inflammatory. It is an acne...
ORGANIC ~ Our luxury beauty products are all natural and use organic ingredients. Not tested on animals. Made in the USA.
Sublime Beauty COLLAGEN LUXURY ANTIOXIDANT MASK, 1.7 oz. Spa-Quality Facial Mask + Moisturize & Revive Skin; includes Collagen, Cucumber, Aloe, Vitamin E, French White Clay. Anti Aging Treat. Unlimited 100% Customer Satisfaction Guarantee.
Beauty (Sublime Beauty)
COLLAGEN MOISTURIZING MASK to Revive and Rejuvenate, Skin Glows; French White Clay to Lightly Exfoliate
FEEDS YOUR SKIN & HELPS YOUR OTHER SKINCARE PRODUCTS TO ABSORB BETTER
COLLAGEN, ALOE, CUCUMBER, Vitamin E and Safflower Oil Strengthen and Smooth Your Skin
Smells Divine and Feels Very LUXURIOUS - SPA QUALITY - US Made!
YOUR ANTI AGING SECRET; 100% RISK-FREE MONEY BACK GUARANTEE
Primal Elements Coconut Cream Body Butter, French Lilac, 4 Ounce


Beauty (Primal Elements)




Wrap your skin in moisture rich luxury with Primal Elements new coconut creme body butter
Enriched with extra virgin coconut oil for extra rich moisturization
This unique formula is made with seventy-five percent organic ingredients and is paraben free
Coconut oil also helps keep moisture from escaping from the skin keeping it soft and supple
Hand packed in the USA

Konjac Sponge (3 Pack) - Facial Cleansing Sponges - Heart Shape for Gentle Exfoliating Beauty


Beauty (The Beauty Shelf)




KONJAC SPONGE 3-PACK - Facial cleansing sponges for deep cleaning. Includes 3 Natural White sponges perfect for babies and sensitive skin
NATURAL & NON-TOXIC - These hypo-allergenic sponges contain no chemicals or harmful additives. 100% Organic, 100% Natural & 100% Biodegradable.
GENTLE EXFOLIATOR - They luxuriously exfoliate, detoxify and balance the skin pH. Gentle enough for sensitive skin conditions and daily use.
SAVES YOU MONEY - Use little or no expensive facial cleanser or face wash. Wonderful natural moisturizer.
EASY GRIP SHAPE - Cute, easy to hold heart shape. No Risk - Comes with a 100% SATISFACTION GUARANTEE.

Konjac Sponge (3 Pack) - Natural Baby Bath Sponges for Babies and Sensitive Skin - Non-toxic & Safe


Beauty (The Beauty Shelf)




SAFE & NATURAL - 3 x Konjac Sponges - 100% natural white hypoallergenic sponges for babies and senstive skin.
NON TOXIC - Completely free from harmful chemicals such as Sulfates, Parabens, Phthalates, and Petroleum.
SUPERBLY SOFT - Gentle enough for babies, kids & skin conditions like rosacea, excema, dermatitis & psoriasis.
EASY GRIP SHAPE - Tested by mothers, the heart shape is the easiest to safely grip while washing toddlers.
SAVES YOU MONEY - Use little or no expensive cleanser. Comes with a 100% Satisfaction Guarantee.