Best selling luxury cars 2013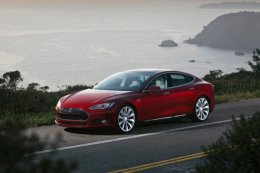 What's the best-selling high-end luxury car in the US? If you guess the big BMW, Lexus or Mercedes- Benz sedan, you'd be close to correct. But the top seller actually appears to be the Tesla Model S electric car, with 4, 750 sales in the US for the first quarter of 2013, more than half again as much as the Mercedes-Benz S-Class. That's a stunning achievement for a car company founded in 2003. Fisker Automotive, the other high-profile electric car/plug-in hybrid startup of the last decade, has laid off most of its workforce. Tesla is moving on to new models and it's bolstering its cash flow with technology and collaboration deals with other automakers such as Mercedes-Benz. Technology deals have been a huge source of revenue for small automakers. Porsche for decades provided engineering expertise for other automakers.
The Tesla Model S is a four-passenger sedan (two in comfort, two in back) with electric (only) propulsion and three levels of range via three battery packs, ranging from 208 to 265 miles on the EPA economy test cycle.
Top five luxury cars, first quarter 2013
Tesla Model S, 4, 750 US sales January-March (estimated)

Mercedes-Benz S-Class, 3, 077

Lexus LS, 2, 860

BMW 7 Series, 2, 338

Audi A8, 1, 462
Why to treat sales figures with a grain of salt
There's little doubt that the Tesla Model S is the top seller. But there is this: Tesla does not disclose exact sales, the same as the rarefied-price automakers such as Rolls-Royce. Unseemly, they sniff. So the 4, 750 sales is an estimate, but a close one, because eventually the sales register when the cars are registered and tabulated by the 50 states.
More importantly, Tesla's pricing is at the low end of what the other high-end luxury cars sell for. The Tesla Model S lists at $62, 400 or $72, 400 with the 60 kWh and 85 kWh battery packs; the Model S Performance lists at $87, 400 with an 85 kWh battery. The cheapest Mercedes-Benz S-Class starts at $92, 400. Luxury car automakers have more years experience offering options that can increase the as-sold price by more than 50%. Options carry a higher profit margin than the base car.
✔
Mercedes wallpapers
all models.
You might also like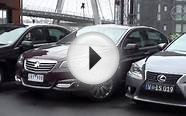 DCOTY 2013: Best Luxury Car Under $80,000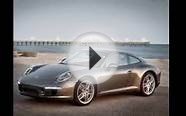 2013 Best Cars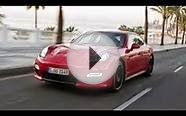 Best Luxury Car 2013
iGadgitz Pink on Black 'Bi-View' Textured Finish PU Leather Case Cover for Amazon Kindle Paperwhite 2014 2013 2012 With Sleep/Wake Function & Integrated Hand Strap
CE (iGadgitz)
Unique textured, canvas-touch Floral Collection PU leather for the Kindle Paperwhite 2012 2013 2014 versions, with soft touch, anti stain microfiber felt lining
Integrated elastic hand strap offers a secure hand-held viewing position
Offers an easy access flick out portrait stand to create a comfortable reading position
Sleep/Wake technology utilises magnets to align the front cover securely & put your Kindle to sleep
Not suitable for any other Kindle versions
iGadgitz Red 'Guardian Tri-view' Leather Case Cover for Google Nexus 7 2012 1st Generation Android 4.1 Tablet 8GB 16GB (NOT suitable for the 2nd Generation released August 2013)
PC Accessory (iGadgitz)
Custom made Guardian Triview case for the Google Nexus 7 Android 4.1 Tablet 8GB 16GB
Hand stitched leather case with unique aesthetic.
Customised design with cut-outs for all ports. Includes card holder on inside cover.
Incorporates 2 optimum landscape viewing positions integrated smartly into the case
Integrated fold out portrait stand uses mm design to nest into the tablet frame completely flush
Popular Q&A
what is the best selling luxury car company in the usa? | Yahoo Answers
Lexus is the best, and most reliable, from my experience. I've owned three (3) and never did any one ever "break" and have to go to the shop, other than routine preventive maintenance.
What is the best selling luxury car?
The Lexus ES 350 ($34,470) , the fifth generation of Lexus ES series, is the best selling luxury car for 2009.