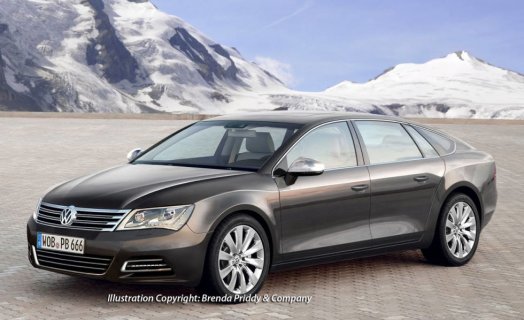 Luxury car by Volkswagen
In Japan, you can buy a Toyota luxury sedan called the Century. It features a 48-valve 12-cylinder engine, an air suspension, and Magic Fingers vibrating seats. We asked why the Century was sold nowhere but Japan. "Because, " explained Engine magazine editor Masafumi Suzuki, "no one but us would admit to driving an $85, 500 Toyota."
In America, you can buy a Volkswagen luxury sedan called the Phaeton W-12. It features a 48-valve 12-cylinder engine, an air suspension, and Magic Fingers vibrating seats. Purchase the automobile depicted here and there will come a time, like it or not, when your neighbor asks, "Hey, what kind of new car did you buy?" You're going to have to look him in the eye and say, "Well, I bought a $91, 415 Volkswagen."
Before the poleaxed expression departs his face, you might add, "But, hey, my VW shares its platform with the Bentley Continental GT." If he still looks as if he might momentarily laugh so hard that fluid exits one or more nostrils, flip him your car's keys. First thing he'll do is start this VW and not realize it's running-yes, it's that silent, with no telltale vibration thrumming up through the steering column. The engine at idle sounds like the low-speed fan on a Cadillac Seville, which, by the way, this VW exceeds in length.
What will happen next is that your neighbor will come close to breaking the speed limit by the time he reaches the end of your driveway. Not because the Phaeton W-12 is a hot rod-although 0 to 60 mph in 5.5 seconds is impressive for anything weighing 5436 pounds-but because it attains illegal speeds as if by magic. There is no chirp at launch, thanks in part to 4MOTION all-wheel drive. And the 6.0-liter W-12-essentially two narrow-angle V-6s attached to a common crankcase at 72 degrees-delivers its 420 horses with electric-motor-like smoothness, emitting only the serene whoosh of a jet four miles overhead. You're just wafted to colossal speeds, with 6000-rpm WOT upshifts clicking past as imperceptibly and silently as mile markers. The quarter-mile vanishes in 14.0 seconds, 1.1 second quicker than an eight-cylinder Phaeton we tested last December. There's so little drama involved, so little head snap, so few clues suggesting vehicular strain or stress, that a back-seat mother-in-law will remain blissful right through her weekly harangue about your apparent inability to afford an Audi.
✔
Mercedes wallpapers
all models.
You might also like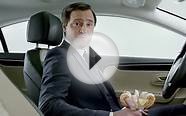 Volkswagen CC - Affordable German Luxury Car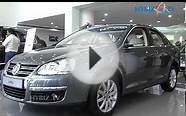 Volkswagen Jetta Luxury Car
OkuTech for Volkswagen VW 3D Full Surrounded Floor Mats & Car Mats New Generation Ultimate Custom Fit Luxury Floor Liner (Black Red Line) (Volkswagen Passat (2011-2014))
Automotive Parts and Accessories (OkuTech)
OkuTech is a Great Seller of Luxury Ultimate Full Surrounded Custom Fit Car Floor Mats On Amazon Marketplace
Custom Fit Your Car: Every Model, Every Age Has A Specialized Mats. When You Place An Order, Please Send A Message To Tell Us The Age And Model of Your Car
Green And Safe, No Smell, Can Not Miss The Perfect Ultimate Luxury Full Surrounded Custom Fit Car Floor Mats, Immediately Buy A Set for Your Car
OkuTech Custom Fit Full Surrounded floor Mats is guaranteed against faulty materials and workmanship for a period of three years from the date of purchase. Exclusions...
OkuTech: Standing In The First Line of Aesthetic Luxury, The Luxury Brand of Car Floor Mats, 4S Shop Specifically for Floor Mats, The Preferred High-end Automotive...
Universal Fit For Luxury Executive Coupe / Sedan / Hatchback Car (Usually Length Of Car Not Exceeding More Than 5300mm)4 LAYER UNIVERSAL WATERPROOF CAR COVER+MIRROR POCKET W/LIFE WARRANTY
Automotive Parts and Accessories (R&L Racing)
Waterproof , Durable Layers Offering Ultra Protection From All Of The Elements, Safe To Use In All Types Of Weather Conditions
UV Resistant Material For Maximum Sun And Heat Protection, Protects Against Extreme Condition Of Rain, Snow And Heat
Prevents Damage From Acid Rain, Dust, Smog, Tree Sap, Bird Dropping & Pollutants. Soft Cushion Fabric To Protect Your Vehicle s Exterior Finish
Made of Coverguard, Triguard and Coverbond 4 materials
Especially designed to fit vehicles within a definite size range.Elastic Bottom Hems To Provide A Secure & Tight Fit. Comes With Mirror Pockets, Easy Installation
OxGord® 4pc Full Set Heavy Duty "DELUXE" Carpet Floor Mats, Universal Fit Mat for Car, SUV, Van & Trucks - Front & Rear, Driver & Passenger Seat (Black)


Automotive Parts and Accessories (OxGord)




Buy a Trusted Brand Name - OxGord® is the #1 Top Rated by Consumers when it comes to Automotive Part & Accessories
Simple to Install. Premium Needle Punch Carpet w/Heel Pad for a Professional Looking - Universal Fit Makes it a Perfect Choice for Many Vehicles
Provides a Convenient Way to Change the Look of Most Cars, Trucks, Vans, & SUV Interiors - Helps Protect OEM Floor Mats or Disguise an Old One
Heavy Nibbed Backing to Keep Mats Securely in Place - Easy to Clean 100% Washable - All-Weather Protection Against Sleet, Ice, Snow, and Rain.
4pc Full Set Includes (2) Front Driver Side & Passenger Side Floor Mats, (2) Rear Driver Side & Passenger Side Floor Mats

The British Gold Company VW Collectors 2 Piece Volkswagen Set 24K Gold Finished Luxury Golf Camper Bus Keyring & Gold Pocket Watch For Car Or Pocket


Automotive Parts and Accessories (The british gold company)




Lavishly finished in pure (certified) 24k .9 gold this leather and metal keychain and pocket watch gift set is spectacular!
Housed in a luxury satin lined gift box, british gold co. Branded and ribbon wrapped
Housed in luxurious presentation case
An exquisite gift for all vw owners or enthusiasts
Durable and hardwearing very generously applied 24k gold

Apple Ipad Air 2 Case Borch Fashion Luxury Multi-function Protective Crystal Series Leather Light-weight Folding Flip Smart Case Cover for for Ipad Air 2 (Sky blue)


Wireless (Borch)




For Apple iPad with Retina Display
The microfiber interior lining offers scratch and dust protection as well as anti-slip protection when rolling back the cover in Stand position.
The magnetic cover protects your screen on the go and offer a sleep/wake function upon opening and closing.
Slim lightweight durable protective hardback with premium quality PU leather. Soft scratch-free microfiber interior adds comfort and an additional layer of protection.