2012 American luxury cars
At the top of the list is the 2012 Cadillac CTS. In fact, six of the top 10 American-made cars are from General Motors: three Cadillac models, and one each from Buick, Chevrolet, and GMC. The two other Big Three Detroit automakers, Ford and Chrysler, are represented with two spots each on the list.
Total Car Score, a car comparison website and comprehensive auto rating system, assigns a Total Car Score (or TCS) to each vehicle in the market. The TCS score is an overall industry assessment combining quantitative car reviews from all the major automotive authorities (including The Car Connection).
Karl Brauer, editor in chief and CEO of Total Car Score, commenting on the list, said, "It's worth noting that while no compact domestic models made the list, Ford's 2012 Focus was less than half a point behind the [Chrysler] 300 SRT8.
"With a growing interest on small cars and high fuel efficiency, it's likely we'll see a domestic economy car in next year's Top 10 Best American Cars list, " Brauer said.
Here is the list of this year's winners, with excerpts of Total Car Score comments, along with a few of our own garnered from The Car Connection reviews.
1. 2012 Cadillac CTS – With an overall "superb" Total Car Score (TCS) of 86.49, the 2012 Cadillac CTS is not only an appealing American entry luxury car, but its first-place ranking is illustrated when "reviewers compare it favorably to European rivals, which used to have the segment sewn up." The Car Connection review of the 2012 Cadillac CTS concludes: "It has a styling leg up, and the 2012 Cadillac CTS backs up its looks with good dynamics, good build quality and a competitive set of body styles and options."
2. 2012 Buick LaCrosse – Noting that the 2012 Buick LaCrosse posted the highest score in the large sedan category, the overall 85.01 TCS score receives reviewer praise for its "quiet ride, responsive handling, strong V-6 engine and available all-wheel drive." Here's what our editors have to say: "As a sophisticated, roomy, tech-savvy premium sedan—now with up to 36 mpg—the 2012 Buick LaCrosse hits the mark for a lot of shoppers who want luxury on a limited budget."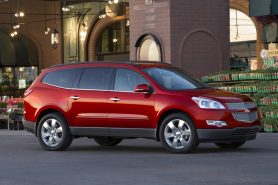 2012 Chevrolet Traverse
3. 2012 Chevrolet Traverse – The family-friendly eight-passenger and the "uncommonly adult-friendly third-row seat" are obvious attractions, contributing to the 2012 Chevrolet Traverse TCS of 84.87. The Car Connection editors comment: "A very spacious interior, seating for eight, and a smooth, quiet ride make the 2012 Chevrolet Traverse a top pick for families."
4. 2012 Ford Flex – While its style may not appeal to everyone, there's no arguing the 2012 Ford Flex has a lot to offer, as borne out by its overall 84.44 TCS. Among the positive attributes are its "roomy, comfortable interior and excellent crash test ratings." On The Car Connection side: "One of our top-rated vehicles, the 2012 Ford Flex has real distinction, along with top-shelf turbo power, great seats and great features."
✔
Mercedes wallpapers
all models.
You might also like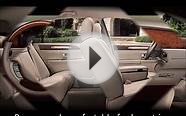 European Luxury Cars vs American Luxury Cars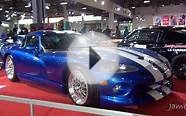 35th AMERICAN CAR SHOW - 2012 Helsinki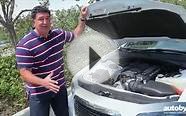 2012 Chrysler 300 SRT8 Test Drive & Luxury Muscle Car ...
Ferrari 458 Italia GT2, No.59, Luxury racing, 24h Le Mans, 2012, Model Car, Ready-made, Fujimi 1:43


Toy (Fujimi)




Year of Construction : 2012
scale : 1:43
Type : Ready-made
Material : Resin
Brand : Ferrari
OxGord® 4pc Full Set Heavy Duty "DELUXE" Carpet Floor Mats, Universal Fit Mat for Car, SUV, Van & Trucks - Front & Rear, Driver & Passenger Seat (Black)
Automotive Parts and Accessories (OxGord)
Buy a Trusted Brand Name - OxGord® is the #1 Top Rated by Consumers when it comes to Automotive Part & Accessories
Simple to Install. Premium Needle Punch Carpet w/Heel Pad for a Professional Looking - Universal Fit Makes it a Perfect Choice for Many Vehicles
Provides a Convenient Way to Change the Look of Most Cars, Trucks, Vans, & SUV Interiors - Helps Protect OEM Floor Mats or Disguise an Old One
Heavy Nibbed Backing to Keep Mats Securely in Place - Easy to Clean 100% Washable - All-Weather Protection Against Sleet, Ice, Snow, and Rain.
4pc Full Set Includes (2) Front Driver Side & Passenger Side Floor Mats, (2) Rear Driver Side & Passenger Side Floor Mats
Dual USB Car Charger 3.1Amp 15.5W - 1.0&2.1A Universal Ports, Smart Power Supply For iPods, iPhones, Cell Phones & Tablet, Android Devices, Portable Cigarette Lighter Plug, Mobile Travel Charging Station 12V Input


Wireless (Vority)




Safely protect devices and charger from overheated. LED only light up when charger in good working condition: input voltage isin working range 10.5V-18V, automatically...
Vibration and shock reliability of the electronics component and contact spring mechanics stay firmly in the cigarette lighter plug& provide continuous power...
Universal USB ports COMPATIBLE with Apple iPad Air/4/3/2, iPhone 5S/5C/5/4S/4/3GS, iPod, Samsung Galaxy Tab 3/2,Note 10.1 2014 (NOT For 2012 Model)/3/2, S 4/3/2...
NOT COMPATIBLE with HP TouchPad, Motorola Xoom, Blackberry Playbook & World Edition, Nook, Nokia Lumia 920,1020, 2520, Samsung Galaxy Note 10.1 2012 Model (Works...
Fast charging tablet and phone simultaneously, optimal performance when plug iPad or Tablet to 2.1Amps port & iPhone orother phone or devices to 1.0 Amps port...

American Racing Torq Thrust M AR105M Gloss Black Wheel with Machined Lip (20x10"/5x115mm)


Automotive Parts and Accessories (American Racing)




Glossy black finish with diamond cut lip and a clear coat finish
Five spoke design
One-piece aluminum with center cap included
One year finish warranty
Lifetime structural warranty

Vehicle Backup System Install - Camera


Installation Services




Installing customer-supplied backup camera
Completing and concealing all wiring
Testing unit functionality
Providing use, care, and cleaning instructions
Popular Q&A
What are the American luxury cars? | Yahoo Answers
Well first of all there are three Japanese car brands that are luxury produced here for the US. Acura (branch of Honda), Infiniti (branch of Nissan), and Lexus (branch of Toyota). Now American luxury brands are as follows, Lincoln and the discontinued Mercury from Ford, Buick and Cadillac from GM, and Chrysler has always been sort of a hybrid of both luxury like the 300 model and some economy. We also have BMW, Audi, Mercedes, Jaguar, Maserati, Aston Martin, Maybach, and Rolls Royce here too. I'm sure I'm missing something.
What was the first American luxury car?
Cadillac was the first American luxury brand honored for engineering. They were owned by General Motors.
How is the quality of luxury American cars? | Yahoo Answers
It has improved significantly in the past ten years to the point where reliability issues is pretty much a non-issue in modern American cars. In fact cars from all manufacturers including the dreaded Hyundai have improved drastically. Today the worst in reliability according to Consumer Reports is Land Rover but their reliability is still superior to the reliability of Toyota of ten years ago. Do not worry, reliability is very good today, its not like the '70s where some cars literally started to come apart while coming off the assembly line.