Adults only luxury Hotels in Mexico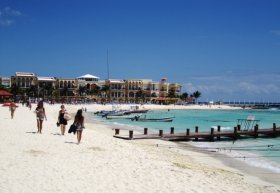 Playa del Carmen is one of the most popular Mexican vacation destination, and it is chosen annually by thousands of people from all corners of the world. In addition to boasting some incredibly beautiful beaches and one of the world's largest coral reefs, Playa del Carmen's best feature is the wide range of vacation options it offers. There surely is a type of hotel or resort that caters for your particular needs and offers a unique experience rather than only rooms. For people who are seeking a vacation time filled with relaxation in a tranquil ambience, there is a large amount of all inclusive adults only hotels and resorts that pride themselves in offering child-free facilities.
Though family vacations are a fantastic opportunity for binding with children, from time to time, you might wish to have a more quiet vacation that does not involve kids, not yours nor someone else's. If this is the type of vacation you want, then the perfect accommodation option for you is one of the many adults only resorts that are located in Playa del Carmen. While staying at one of these hotels not only you will enjoy much more privacy and relaxation, but also you will find that all the services and facilities have been designed to suit the adult mindset: they tend to be more lavish and discreet, to feature nicer sit down restaurants, and to offer more mature and appropriate entertainment choices.
One of the most popular, luxurious hotels in Playa del Carmen offering adults only accommodation is the El Dorado Maroma. El Dorado Maroma is an exclusive beachfront resort located in Maroma beach, allegedly one of the best beaches in the world, which welcomes any adult guest who wish to enjoy a secluded and enchanting setting. There are just 99 suites in this intimate resort, which makes it perfect for destination weddings, romantic getaways, and the greatest honeymoons.
Another great option for an adult only vacation is The Royal Playa del Carmen, which offers 513 spacious luxurious suites that feature garden, or ocean views. Each room has its own double Jacuzzi, a terrace or balcony, royal bed, and 32'' LCD satellite TV. This resort boasts an idyllic beachfront location only steps away from Playa del Carmen's popular Fifth Avenue, where all the hot night spots, trendy cafes, and cool shops are. In addition, guests will enjoy an incredible all-inclusive plan that covers almost everything in the hotel: from meals and beverages, to a telescope for star-gazing in Royal Master and Presidential Suites.
✔
Mercedes wallpapers
all models.
Popular Q&A
What hotels to stay at in adams Morgan? | Yahoo Answers
The best rated hotel in Adams, Morgan is the Morgan Estates Suites.